Things seemed to be going really well after our first date. We were texting back and forth constantly and he was really sweet. It felt like I had finally found someone that I could connect with. It was nice.
There was absolutely nothing to complain about. I was even climbing up the ladder on the work front. My boss at the time knew I was absolutely serious about a promotion. I had transferred to a new location with a beautiful view.
The Unexpected Third Party.
About a week after our first date, he asked me to dinner and a movie.
Classic.
On the first date, he told me that his car was in the shop. This time, he told me he still didn't have wheels. I thought this was odd, but I didn't really pay much attention to it. I mean, why would he lie?
When I showed up at his house, he told me to park. He was standing by a car with someone inside. This was odd. We were hanging out with his friend when we were supposed to be on a date. We hung out for a bit to smoke and shortly after, his friend left.
It turns out that this person was his ride to get home. Haha! Jokes on me, right…?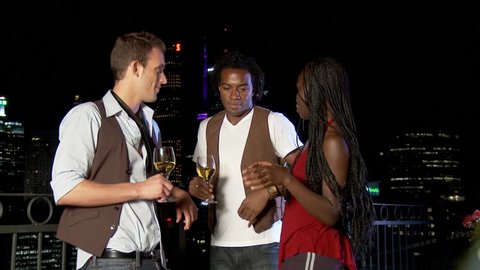 Dinner.
We headed out for our date. He chose Buffalo Wild Wings. I figured because he was a basketball player and was into sports, that was the reason he chose this spot. It was cute. He held my hand as we walked to the restaurant, opened the door for me and pulled out my chair. I loved every bit of it. I loved the attention.
As we sat to order, I was a little thrown off. We didn't really converse as much. He was mostly stuck on his phone. There were times he would put it down and chat a little bit, but would go straight back to his phone.
There were hundreds of tv screens around the restaurant—all different sports channels. He was more interested in the events going on. I'm a sports fan, but I assumed I definitely wasn't as big a fan as he was given that he played basketball and all. He just chose to be glued to his phone.
Once he put his phone down, still not much of a talker. At some point, he focused on the basketball highlights but went straight back to his phone. I was a little confused.
Movie.
We finished dinner and headed over to the movie theater. It wasn't any ordinary movie theater—it had seats that reclined to the point where you were almost laying down. I had never been to a theater like this and thought it was pretty cool.
When we found our seats, he got comfortable really quick. He held my hand and cuddled with me. It was nice to have someone cuddle with again. I missed that feeling especially after I'd just been cuddling with my pillows for the past year and a half.
Don't ask me what movie it was because I honestly can't even remember.
After the Date.
When the movie finished, we headed back to his place. We smoked and I noticed that's when his talkative side came out. It was authentic and very genuine. Where this side was when we were out and about? Maybe he was shy? Who knew?
Again, I paid no mind to it partly because I was distracted by his hint of wanting to go the next step. Despite being from a young generation, I actually have old school values. I said no and he seemed okay with it.
But that would quickly change.
To My Readers.
For those of you who have been following my story, I appreciate your support. For those who are new, welcome to my blog. I hope you are interested in coming back again.
I know I've only been writing about my story so far and it's just to get a feel of starting my blog. I will start posting twice a week: Domestic Violence Awareness on Mondays and my story on Fridays.
Again, thank you so much for supporting my blog. I appreciate each and every one of you. I wish you a safe and loving Happy New Year!
Remember, your life is your own. Don't let anyone take that away from you. I love you.